You can easily add your existing subscribers to eGo Connect by following our pre-defined specifications below. To help you with the process, we've provided a starter spreadsheet which you may download here by pressing File > Download as after it's opened.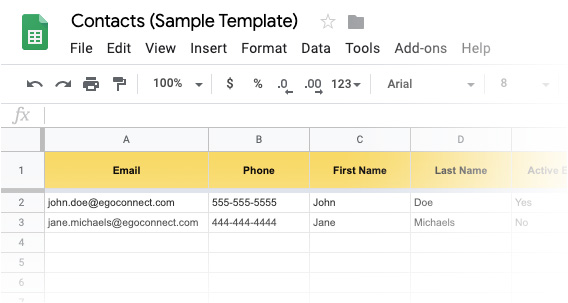 In the starter spreadsheet, you'll notice the first four columns:
Email
Phone
First Name
Last Name
Active Email Subscriber
Active Phone Subscriber
Active Email Tracking
Custom Attribute Columns
When you begin adding subscribers, these first seven columns should always remain in place and with the same header titles. If you don't have the first name, last name or phone number handy, you can always leave it blank. However you must always include an email address.
Email & Phone Number Attributes
The active email subscriber column can contain a "Yes" or a "No" which will enable you to add people to the system and make them either an active or inactive email subscriber. This is useful in the case where you would like to add a member to the system, but they may have not opted in to receive your email communications yet. The same goes for the active text message (phone) subscriber column if applicable to your account.
We have also included an active email tracking attribute which can contain a "Yes" or a "No" as well. This toggle is helpful to stay in compliance with certain privacy laws.
Adding Custom Columns
We encourage adding as much custom data as possible prior to uploading your subscribers into eGo Connect. The system will begin to collect data on your contacts after usage, however it's best practice to sort them and add as much as you can prior to upload if possible. The three types of information we encourage you to add are:
Custom Insert Data
Sorting Data
General Data
Custom Insert Data
This is custom data we can insert in a message for a greater level of personalization. For example, the "First Name" column is an example of custom insert data. If you put the name "John" in the first name column, you'll be able to say "Hi John" in an individual message. If you add the column "Met Person At" and added "XYZ Fundraiser" for the recipient, your message could say "I remember when we met at the XYZ Fundraiser last year". The most effective email messaging is the most personal, so the more custom insert data you enter, the more of a response you will receive.
Sorting Data
This type of data will enable you to break down your subscribers into sub groups which we call "Affinity Groups". For example, if five people on your list are board members for your organization, you could add a column that says "Board Members" and a "Yes" next to each of them. You would add a "No" for everyone else. You may want to add a "Volunteers" column to tag volunteers. Also, if you have donors prior to eGo Connect, you may want to add the columns "Pre-EGC Donor" with a Yes/No" and "Donor Level" with a High/Medium/Low to isolate previous donors and their giving level.
The most effective email messaging is not only personalized (with custom insert data), but also targeted. When asking people to support a cause, you may want to reach out to high level donors differently than low level or people in a certain region differently than another.
General Data
This type of information is general and for your reference. You may want to add an "Organization" column or "Title" column. You can add as much or as little as you would like.
Adding Data Later
As you proceed and use the system, creating follow up campaigns, progressing with personalized messaging, you can always add columns that enhance your campaigns. On top of this, you'll have all of the data collected through eGo Connect to provide further sorting capabilities.
Proper File Format
When you're ready to upload the data, you'll want to export your spreadsheet as a CSV (comma-separated values) file.